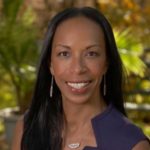 Tiffany Thomas-Smith, Esquire
To learn more about Tiffany Thomas-Smith, Esquireclick below.
Why did you become a Collaborative Professional?
To provide an alternative option for healthier divorce
What advice would you give future Collaborative Professionals?
Be open minded and willing to explore creative options
What is your favorite part of being a CLP member?
Working with talented professionals to achieve positive results
Before working at the company or organization you are with now, what is the most unusually or interesting job you've had?
How do you balance your career and family?
Incorporating minfulness and spirituality into my daily routine
What would your autobiography be titled?
If you had to eat one meal everyday for the rest of your life, what would it be?
Strawberries and blueberries
I'm with my friends and family
What would you like most to tell your 13-year-old self?
You can do anything you put your mind to, set intentions and they will become your reality
What sport would you compete in if you were in the Olympics?